Minister Kenney Expresses Solidarity with the Muslim community at the Outaouais Islamic Centre
January 7, 2012
View image
Gatineau, January 6, 201
2 - The Honourable Jason Kenney, Minister of Citizenship, Immigration and Multiculturalism, visited the Outaouais Islamic Centre in Gatineau, Quebec, to show solidarity with the Muslim community on behalf of the Government of Canada. The mosque was vandalized with hateful messages overnight on Thursday, January 4. Minister Kenney spoke with Muslim faithful who were at the Mosque for the Friday prayer service. He reiterated Prime Minister Stephen Harper's strong condemnation of these heinous attacks and our government's commitment to protecting vulnerable religious minority communities both at home and abroad, through initiatives such as the Security Infrastructure Program (SIP) and the Office of Religious Freedom. The Mosque leadership also expressed their gratitude to the Government for facilitating the key security upgrades they have made through the SIP program.
Minister Kenney issues statement condemning acts of vandalism at mosque in Gatineau
English: http://www.cic.gc.ca/english/department/media/statements/2012/2012-01-06.asp
Photos: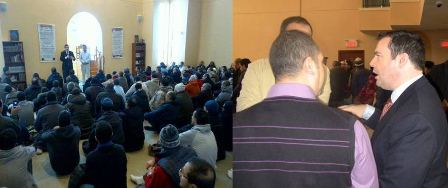 Left: Minister Kenney reiterates our government's condemnation of these attacks to faithful attending Friday prayer service at the Outaouais Islamic Centre.

Right: Minister Kenney speaks with members of the Muslim community in Gatineau.